Best Cutting Board: Bamboo and Inexpensive?
For years I had the same old plastic cutting board. I thought it was the best cutting board, I mean it looked new.. for about 1 month. It wasn't long that not only did it look like a science experiment, but I stopped using it because all I could imagine is bacteria with all the deep grooves.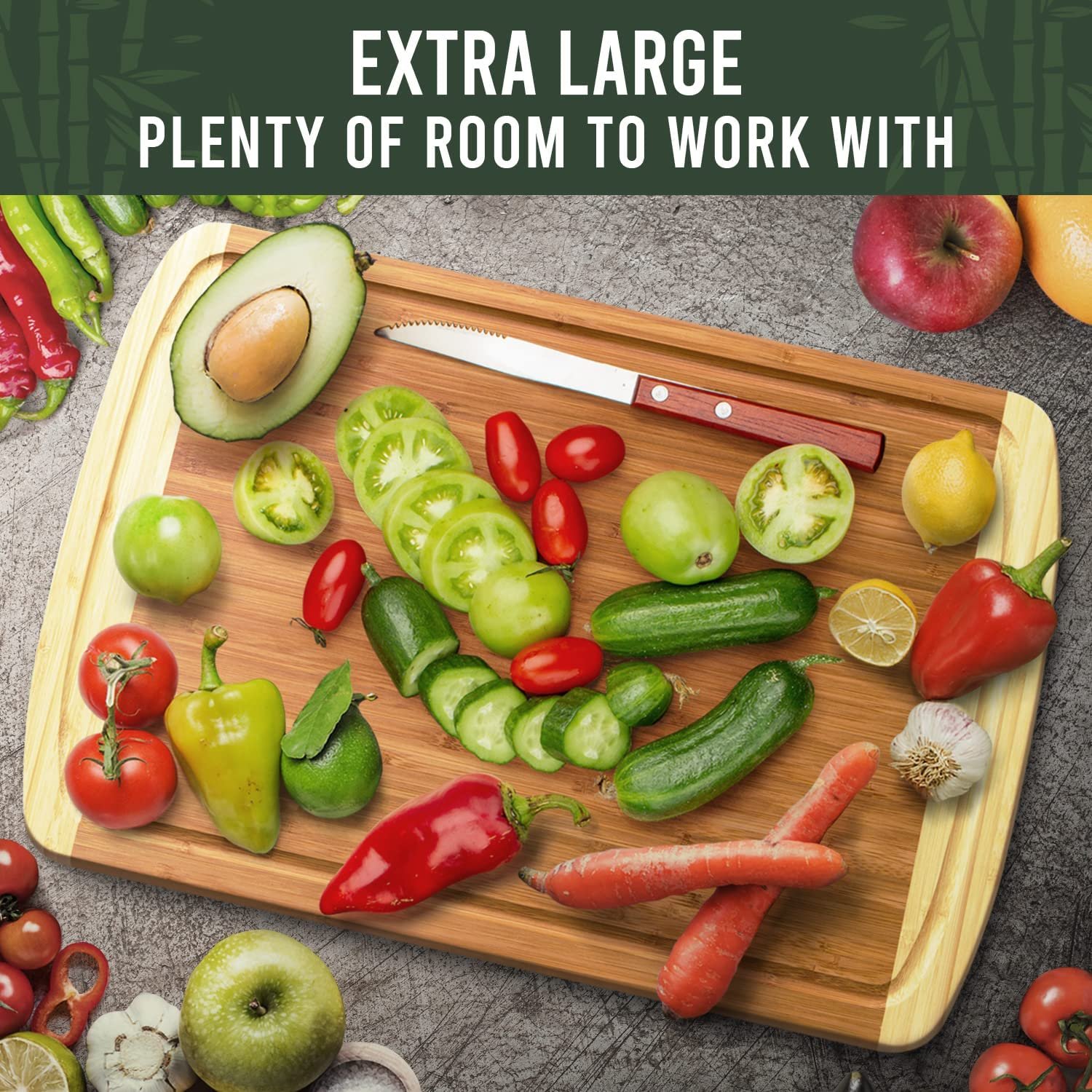 Don't get me wrong, I cleaned it THOROUGHLY after every use with soap and water, but it just started to look pretty bad. Now It was time for me to actually find the best cutting board I could for the money.
I kept putting off getting the best cutting board because I THOUGHT that a REALLY good one would be REALLY expensive… then I came across this Organic Bamboo Cutting board.
I was wrong because it's not just affordable, but it's REALLY nice. Trust me, you're gonna want to grab one too because, in my opinion, it is the best wooden cutting board I've come across for the money.
My site is reader-supported. If you purchase through a link on my site, I may earn a commission. Disclosure Policy
Here are a few questions I asked myself when trying to find the best cutting board, for the best price.
How much should a good cutting board cost?
I was certainly shocked when researching the wide range of costs of wooden cutting boards, and I think you might be too. While the one I use is NOT expensive, you should know that you could spend $4,000 or even more.
… OK, now back to reality. I want you to know that you can find an amazing and beautiful Butcher Block Cutting Board that runs only $229, and it is really incredible if you want to dress up your kitchen, but I was a bit more budget conscious.
What are the healthiest cutting boards to use?
The healthiest and the best cutting board is solid wood because it has fantastic antibacterial properties. When bacteria are trapped in the grains they simply cannot survive and replicate, saving you from getting ill.
Natural Organic Bamboo Cutting Board
This Natural Organic Bamboo Chopping Board is PERFECT for Meats, Cheeses, and Vegetables. Let me tell you some of the features of this beautiful cutting board… It does have a Larger SURFACE area (being an extra large cutting board) which means you can do it all on here at the same time.
This means less meal prep time for you. Now I can slice and chop several different foods a the same time. Before I'd have to chop and wipe them into a bowl, then chop something else, and so on.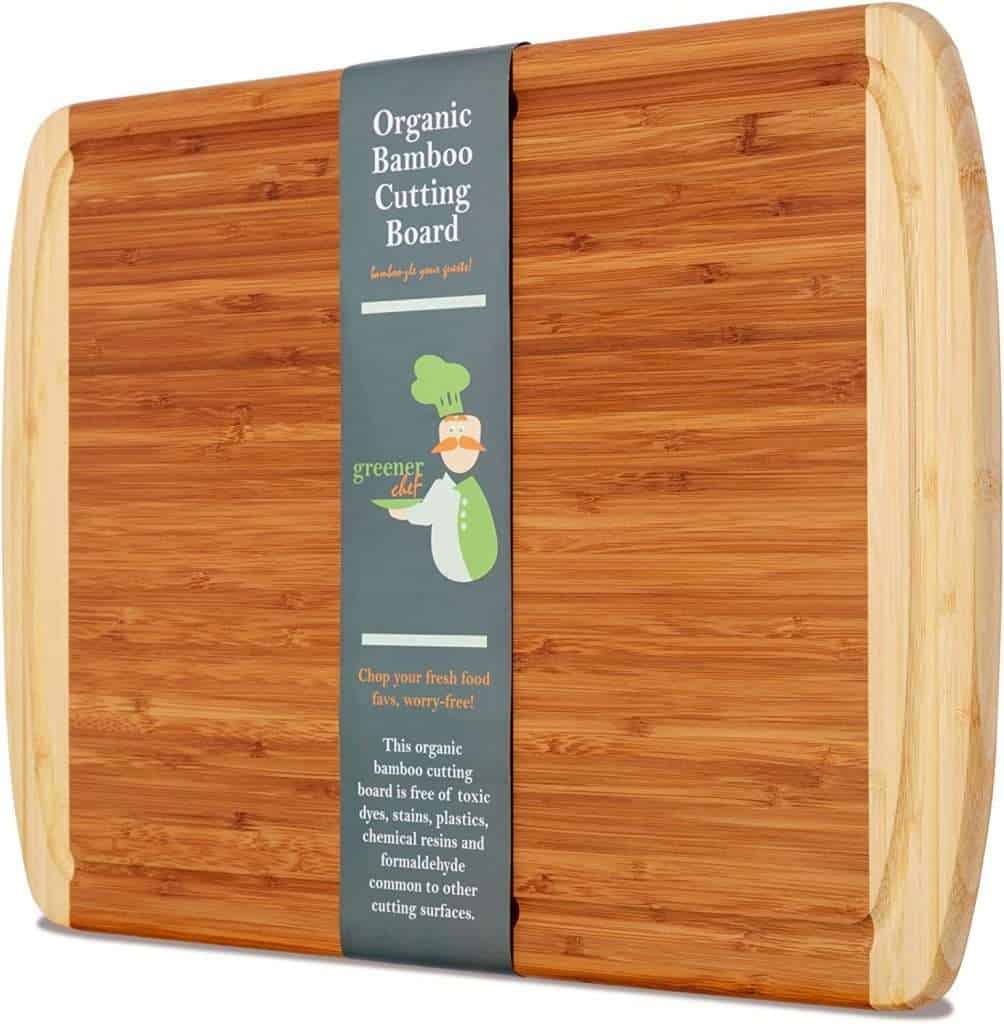 One thing I did is pick up some "food grade" mineral oil to condition or season the board, and it makes a WORLD of difference. Not only does it help prep it for use, but works great to keep it looking great as time goes by.
Now, the size of the cutting board I purchased (above) is 17-½" x 12" and comes with these DEEP GROOVES around the perimeter, which means less chance for any food juices dripping off the board, which also means less mess and easier cleanups.
And this is very important… Greener Chef provides a Lifetime Warranty and a Money Back Guarantee – So basically this is the best bamboo cutting board around, and probably the last one you'll ever need.
Now I can't tell you if these were tested by food network kitchen or anything, but I can tell you is I've used mine for about 6 months and it still looks brand new.
What's not to like?
Best Cutting Board for All Uses
You can use it for a fruit or meat cutting board and is the perfect large wooden cutting board for kitchen slicing and dicing. It's made of 100% Moso Bamboo and is very KNIFE FRIENDLY, which means it will help you keep your knives sharper, and for longer between resharpening them.
Moso Bamboo is chosen because after it's processed it's known for being very hard and durable. In fact, Moso Bamboo is so durable it's also used for hardwood flooring in very high-traffic areas, so as a cutting board it will last you a LONG time.
And, you can use the other side as a large bamboo platter for serving guests your bread, meats, and cheeses. As far as cleaning it?… it is so EASY TO CLEAN
And of course, make sure to Season your bamboo board with food-grade cooking oil when you first get it, then wash it after use with soap and water and your cutting board is as good as new! Greener Chef states it will NOT WARP, split, or crack. So this cutting board can last you a lifetime (which is the length of their warranty).
Why it is a Top Selling Cutting Board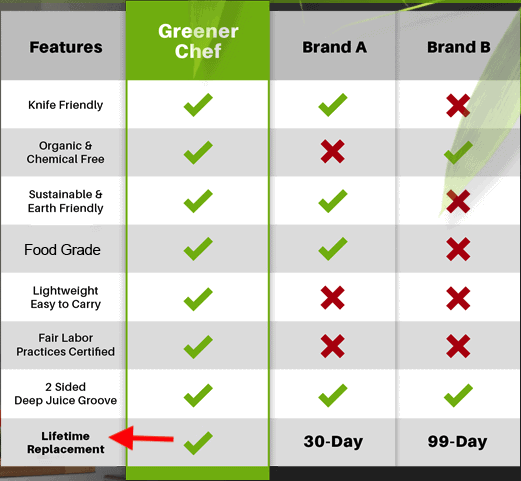 Because this Bamboo Cutting Board is durable, affordable, and a definite upgrade to your kitchen.
Listen, If you like to cook, and who doesn't with the way the cost of food has become so expensive, then I HIGHLY recommend adding this to your kitchen. Here is where you can find it.
At only $19.95 when I bought it, it was way less than I thought it was going to cost, so it is inexpensive for the quality you receive.
You may want to consider the 3 pc different-size boards package if you want them at a really great price too!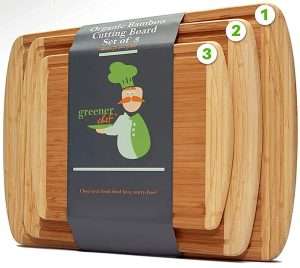 Final Thoughts on This Being the Best Cutting Board

And last, as I mention above, I highly suggest you pick up some Cutting Board Oil to condition it. I got mine from Thirteen Chefs, and it's a must for the longevity of your cutting board and keeps it looking like new. One bottle will last you a LONG time. Probably years.
Trust me, you will really love this bamboo wood-cutting board. Great price, is a great product and adds a bit of professional flair and beauty to your kitchen. It really is a great-looking cutting board.
Bon Appetite!